97% of wedding speakers copy the same dull, generic speeches and phony lines off Google.
But you can be epic.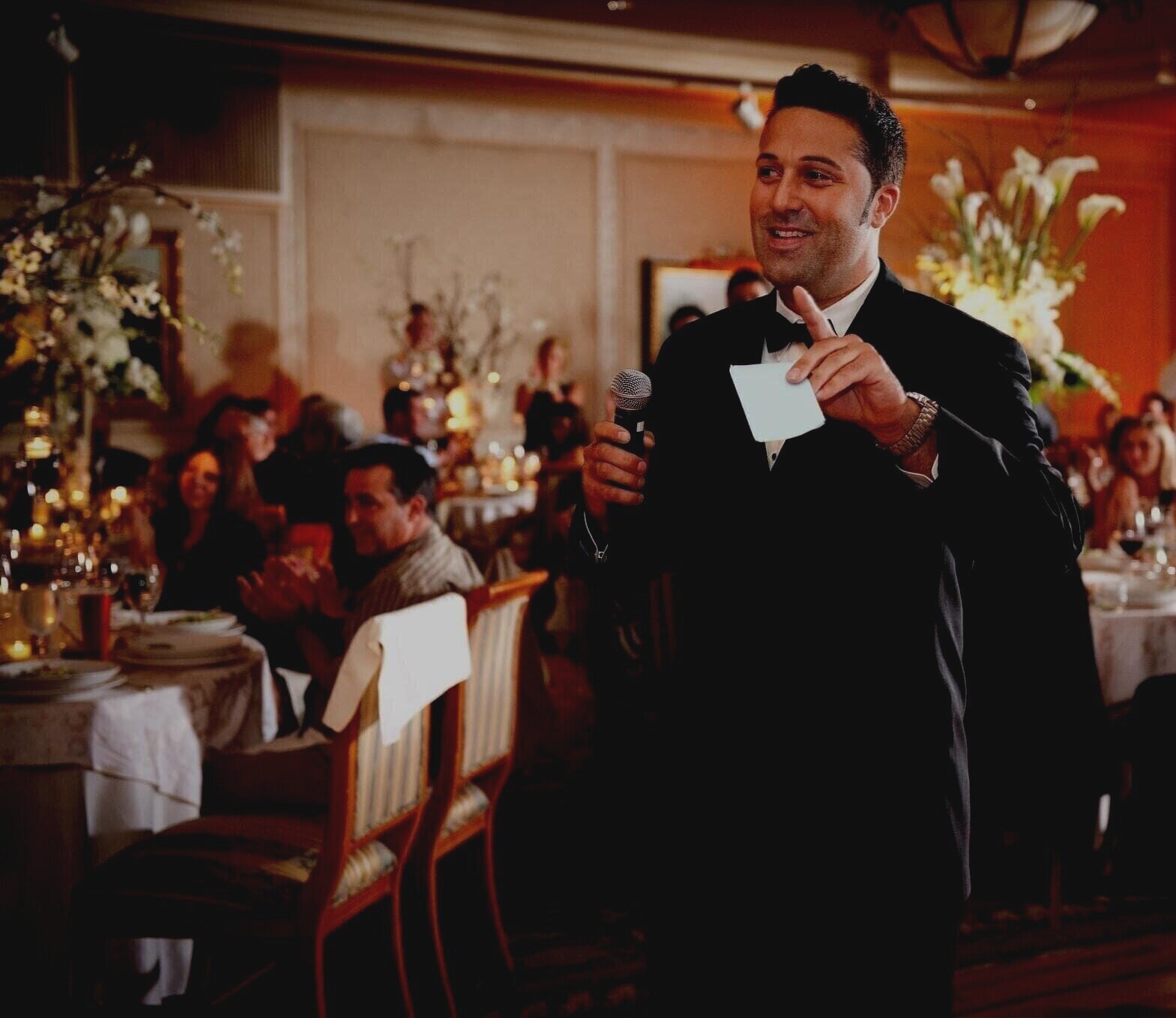 I focus your years of memories… write your killer original speech… and show you how to nail it without stress
Hi… I'm Wedding Speechwriter & Strategist Den Pope.
Brides, grooms and audiences are tired of do-it-yourself wedding speeches pieced together with dull, rambling stories and canned, one-size-fits-all lines and other silliness pulled off Google they've all heard before. Snore.
I'll help you shock, surprise and thrill the bride, groom and everyone with a killer original speech that is funny, warm and unforgettable.
A great wedding speech is an event game changer. Be the one speaker who finally cared enough to give their best in an original speech.
And enjoy the thanks and compliments from everyone.
What Are Others Saying About Den Pope and the Nail Your Speech Process?
Danielle, California
"I had so many people come up to me at the wedding to tell me the speech made them laugh, cry and was one of the best speeches they have heard." (continue)
Brooke, Tennessee
"I had people lining up to tell me how amazing that speech was, and even days later I am getting texts about my toast! Den goes above and beyond in every way." (continue)
Steve, Illinois
"I had well over 50% of the people attending the wedding compliment me on my speech. What a great feeling! My daughter and new son-in-law loved it as well. When I first decided to hire you, I thought you were a little pricey, but after going through the full DEN experience, I can honestly say the fee you charge is a real value." (continue)
Jim, New York
"At least 20 people told me it was the best wedding speech they've ever heard. Another 100 told me they loved it one way or another. The brilliant part is that Den is actually pulling the speech out of you and organizing your thoughts - the memories, tone and jokes are all yours." (continue)
Connor, California
"I'm a skeptical person by nature. Den exceeded my expectations. He has this down to a science. I got so many compliments that night I can't even count." (continue)
Jacke, New Jersey
"I had everyone in the room laughing and coming up to me all night telling me that it was the best wedding speech and presentation they've ever heard!"(continue)
Give the Best Wedding Speech They've Ever Heard
Original
Your relationship with the bride or groom is like no one else's.
But it's difficult to step back from years of thoughts, memories and feelings to make sense of it all.
I get to the heart, soul and humor of your relationship to create a speech only one person in the world can give—you.
Authentic
Your voice and personality can't be captured in canned speeches, generic compliments and silly lines pulled off Google.
Audiences want an authentic, inside look at your relationship and will feel bored and manipulated if you try and con them with the same empty platitudes that can be said about every bride and groom anywhere. Zzz…
Organized
The best speech is grounded in the fact humans have been hard-wired for story since the Stone Age.
So like a movie, your speech must grab, entertain and surprise the audience in a simple, easy-to-follow narrative structure that is more showing than telling.
Why This Makes It So Easy For You to Nail It
EXPERIENCE
With an M.A. in journalism and decades of speechwriting experience, I know how to get to the heart, soul and humor of your relationship with the bride and groom.
This is not a side hustle, this is what I've done full time since 2001. (see About)
PROCESS
This is a tried-and-true journalistic process I've used for many years to create funny, warm, killer original wedding speeches.
This is a speech only one person in the world can give—you. (see Media Coverage)
RESULTS
No canned lines or phony B.S. like you hear in every other wedding speech.
That means you'll get compliments from everyone for being the one who actually cared enough to give an original speech. (see Reviews)
I create speeches for spectacular weddings in the world's most prestigious venues